---
[color:7a39=red
Below are some ways to boost your youtube popularity with barely any effort.
]
There is a new program to increase the amount of views you get on youtube Called Viewet
This program is one easy downloadable tool available at viewet - free, fast and easy youtube views
What you do is you create an account. (takes like 1 minute)
Download the tool.
Sign in
Go to earn credits and click start. (each video plays for 8 seconds and then moves on to another)
Now just minimize the screen and go to your volume mixer on your computer and turn its volume all of the way down
There are instructions on how to use it on the site. but i am going to give you a basic tutorial
After you have collected a good amount of credits. as seen here
You go to "My Videos"
Add your video. and then add however many credits you want to that video. (1 credit = 1 view, but youtube doesn't exactly count them precise. so if you put 3k. you might only get about 1-3k)
Once you submit your video it is put into a database and all other users who are earning credits view your videos like this
its not really a bot because it is real people viewing your videos. so you dont have to worry about them freezing at 300.
Note: it is a new program and about 1000 people own it. i am trying to get this out to more people so its worth having :p
---
Now is a Youtube Channel View Bot Called "Best Tuber"
Download link -- http://www.megaupload.com/?d=M09415NI
Image of the Bot
The view bot is quite Easy to use
1. Once downloaded. Extract the files to whatever location you would like
2. Open the file and Copy and paste the channel's url in the box provided
3. Select the time from 1 to 2
4. Click "Load Proxy List" and select the .txt format i gave you a link to above
5. After all the proxies load Click "Start" and just minimize to tray
Note : Do not try this on a video as it will get frozen at 300
---
And now one of the most used youtube bots ever. Called Grey Goose Booster
Download link -- http://www.megaupload.com/?d=0X03L48D
Password to the rar is -- ap0win
User name and password are both - purp
Images of the bot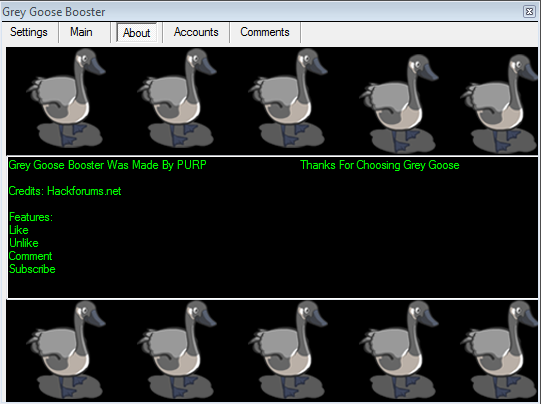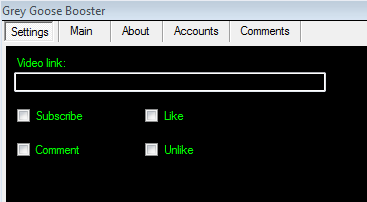 It is pretty much self explanatory and does not come with any accounts. you have to create them yourself.
Once you have an ample ammount of accounts follow these steps
You have to make a .txt anywhere for the comments and the bots.
Make a .txt called Bots and one called Comments. After, put the bot account info inside the .txt called Bots like so
username:password
username:password
username:password
Then put the comments you want the bots to say inside the .txt called Comments like so
Code:

Awesome man! keep up the good work
LoL this is BEAST
Wish I was you ;(
Best I've seen so far. Great job.
OMG that rocks!
Have I told you I luvz you?
Wish everyone could see this
You got a new subscriber!
Woot I love videos like this.
I just jizzed.
Is it just me or is this guy GREAT!!!!!
Holy crap, you I don't Know.
Subbed 4 life =)
Nice keep it up.
Make more please.
Ok.. that was umm. Beast!
You should have more views
If only everyone could see this
I give it a thumbs up.
I give it a thumbs up and I subbed =)
Ohh happy days.
By far the best.
What he said lol
I did that once

Say hello to my little friend
buh bye lol
Make more I'm so happy right now
How the hell did you do that?
is that even possible.
Spoiler: